AOC, Omar: "The US is Running Concentration Camps; Why is that Controversial?"
Sun - June 23, 2019 - 6:40AM

Rep. Alexandria Ocasio-Cortez (D-NY) is under fire for recently doing a livestream & posting tweets saying:
"This administration has established concentration camps on the southern border of the United States for immigrants, where they are being brutalized with dehumanizing conditions and dying." - Rep. Alexandria Ocasio-Cortez
This is obviously not true, as the 'camps' that AOC is referring to are detention centers that have to be there in order to place all of the migrants who are flocking to the U.S. in groves. She also said in her livestream "Never again," which is an obvious reference to the Holocaust. There are so many people that the actual facilities that U.S. Border Patrol have are filled. This problem is expanding, but there are congressional leaders who don't understand this problem. AOC is one of them, as she pontificates about how President Trump is a "fascist" and needs to be "impeached." It doesn't stop there, as Rep. Ilhan Omar (D-MN) then came out saying:
"I don't understand why it is so controversial to say the U.S. is running concentration camps? There are camps, and people are being concentrated." - Rep. Ilhan Omar

Does anyone want to tell me just what the hell that statement even means? Because it wasn't intelligent, nor did it make a lick-of-sense. These two have swindled their way into congress, but they do not have any knowledge, of what seems like of anything. This has put them in the hot-seat because people do not like or accept that the U.S. is running concentration camps, it's simply not true. The Democrats want to run with whatever narrative will make President Trump look bad, so they can build a case for why they want to impeach him. Alexandria Ocasio-Cortez won her election by openly stating that "It's time for old White men to go away & for a woman of color to step up." She pandered to race & the people of New York purchased her claims, without any discounts. Ilhan Omar became a citizen by marrying her brother. AOC & Omar's official congressional photos are probably the best they will ever look, because they certainly don't shine with intelligence.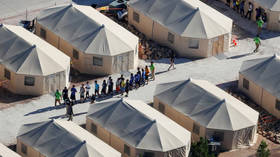 What country has concentration camps where people willfully pack up, leave their country on foot, & do whatever it takes to get here, to purposefully get into those 'camps' so that they can receive tax-payer funded water, food, games, clothes, supplies, even after breaking the law? The Democrats are out of their minds, and AOC & Ilhan Omar are just the proof one needs to legitimize that claim.
Read More: https://www.rt.com/usa/462166-aoc-trump-running-concentration-camps/
https://www.newswars.com/omar-dont-know-why-calling-facilities-concentration-camps-is-controversial/
Jones Court Podcast & News™ 2019